Scala Player

The final piece to your digital signage solution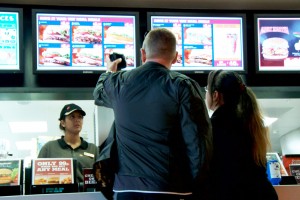 Stable and reliable digital signage playback 24 hours a day, 7 days a week
Superior playback technology delivers smooth sub-pixel motion without distracting choppy, stutters
Player will only download changes, not the entire content
Communicates with Content Manager to track Player health and log events for ad billing or other reporting.
Windows Script Host Support enables seamless interface between Player and other systems/data using JavaScript, Python or VBScript
Supports Windows Streaming Video or live video inputs with additional EXtension Module and corresponding hardware
Plays either self-running media or interactive content with a touchscreen
Native support for many widescreen displays and auto-rotation on portrait screens
Audio-only Players are an option if you're looking to manage both visual and audio messaging
If your network connection goes down, Player keeps playing using store and forward technology
Player licensing options are available for a wide variety of hardware from the very basic to the most advanced
Choosing the right player
Your player is more than just a tool to share out content-it's the final piece to your digital signage solution. There are many options available, each with different strengths and features for different situations. Deciding on a player begins with one simple question:
What do you want to achieve?
Your business goals will determine which player is right for you. Take a look at this overview chart to get a basic idea of how content and use can impact your choice: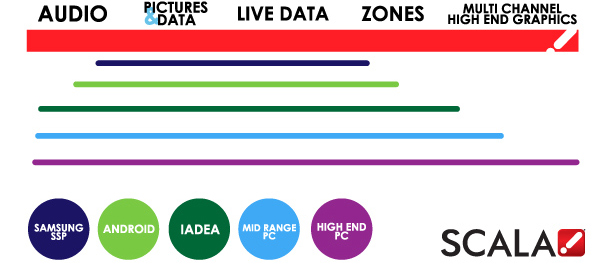 Samsung Smart Signage Platform
A great plug-and-play solution for digital signage. These 'Linux' based devices directly connect to Scala Enterprise Content Manager.
Playback Functionality
Images
H.264 Video
HTML content
Scala Messages
Flash and Scala Script not supported
Android Player Hardware
The Scala Player runs on specific Android-powered media player hardware and photo-frame hardware from a select set of vendors.
Playback Functionality
Images
Video (Limits exist)
HTML5 content (Interactive support)
Screen zones (device specific)
Scala Messages
Flash and Scala Script not supported
IAdea Players via IAdea Bridge Server
IAdea Devices have several additional functions that are not supported via the Android License.
Requires the installation of the IAdea Bridge Server*
Recommended max 500 devices per Bridge Server
* Although it is possible for the IAdea Bridge Server to reside on the same server as Scala Enterprise Content Manager it is generally recommended that the IAdea Bridge Server be installed on its own server for optimal performance and scalability.
Scala Enterprise - Scala Players
Endless Possibilities
Wide range of Scala Certified PC Players
Most use a Scala Created Image for maximum stability and compatibility
Things to consider before deciding
What features / functionality are mission critical vs. non-mission critical for your project?
Location, Location, Location!
Do you prefer an all-in-one solution or a separate screen and player solution?
What are your needs for size, resolution and screen configuration?
How many channels will you need to support?
How many zones/frames?
Local integration
Interactive or Passive
Content, Content, Content! What type of media will you be using?
Technical Details